1966 Broadcast Class #003 at Ft. Benjamin Harrison
First | Previous Picture | Next Picture | Last | Thumbnails

---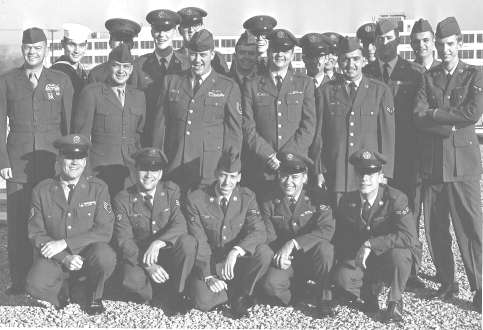 Broadcasting Specialist Class # 003, Ft. Benjamin Harrison, Indiana
(Photograph, October 1966, ALL USAF unless otherwise indicated).
Standing: GySgt Frank Alameida (USMC), PO/2 Chuck Combs (USN), PFC John Deering (USMC) behind GYSgt Frank Candelario (USMC), SSgt. Bill Treacy, A2C Mel thasnum behind TSgt Jack davis, A2C Bob Elyard (in shadow) in fron to PFC Mel Snodgrass(USA), A2C George Smith, A2C Gary York (in partial shadow), A2C A2C Bob Jarvis behind A2C Joe Ruggiero (now of H&G TV), A2C Jim Holmes, in front of Bob tuchel, A1C Don Aistrope and A3C David Mellish.
Kneeling from left: SSgt Davis F. "Doc" Ball, A1C John Lynn, A2C Walter Solarz, A1C George Crawford, and A2C Bob Koslowsky
NOTE: Most of these people went to the AFTN, from school. PFC John Deering was a POW taken at the siege at Hue during the Tet Offensive, according to Doc. We had one Army, one Navy, and three Marines--all of whom became honorary USAF by the end of the class. We were the third class through Fort Benjamin Harrison, Indianapolis, Indiana, and the last to stay in the old open bay barracks near the back parade grounds. Of our class, only Joe ruggiero went on to become a television personality on Home & Garden Television. TSgt Jack"Fat Daddy" Davis was a professional stand-up comedian, and wen on to run the Air Force's "Tops in Blue" program.