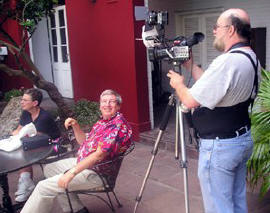 Documentary Update: (3/21/07) from David Mallette
I said it would take a couple of years. However, that was assuming I did it. If I had done it, it would be finished by now and everyone on the group would enjoy it and play it for their families. End of story. What we have is a highly regarded Hollywood editor who is throwing all her spare time (and she DOES have to earn a living) and several thousand dollars (to date) of her own money at our documentary. I am not going to name drop here, but she's had significant interest from names you would know in this doc. Documentary is "in" in Hollywood at the moment. Also consider this: As a highly visible Hollywood professional, Stacey CANNOT afford to produce anything less than the very best. Less than that could cost her a lot of money if not her own career. So, let's be patient in the knowledge that what we finally wind up with is going to be downright embarrassing to us in its treatment of our efforts, and will be a worth and enduring documentation of a part of the Vietnam era none have bothered with until now.
Stacey is currently working on the "teaser." It will be a "no clearance" piece, which means it may contain music and other things for which we've obtained no copyright clearance. It will be used strictly for fundraising. If it can be sanitized to a point Stacey feels no legal threats, I'll provide Bob with a copy to stream. Stacey has indicated that a "no holds barred" version might require 500,000.00 or more for music clearances alone. Pretty scary and right now we are going on a "the Lord will provide" assumption. One possibility is to obtain release through one of the big 3, Sony, Paramount, or WB. These three have copyright to the majority of the music from our period and if one of them were to agree to release, they would waive all or the biggest part of their fees.
Hopefully, we'll be moving along at an accelerating pace now. Our needs remain pictures, slides, and especially any film or other moving pictures that might exist. Also airchecks, but she'd really like to have some complete programs.
Once the teaser is out, we'll be calling on all for support.
[Bob's Note-- Looks like Jon Morgan has a complete aircheck from l973]
-----------------------------------------------------------------------------------------------------------------
<4> Update -- 1/17/054>
I am sure you will be pleased to learn that the 16mm reel (of the plane crash) is now safely in Hollyweird in the hands of one of the best young editors in the business. She will be reviewing it along with the reunion footage and all the scanned assets in the near future with an eye towards developing a "teaser" of short duration to help us raise funds for the main event. As we tried to make clear at the reunion, this will be a first-class effort by volunteers and that means it will take a while. Stacey, our editor, works 24/7 when she is on a feature and will be working this in as time permits. However, she remains excited about the project and I think we will all be very impressed with the teaser when complete. Bear in mind that this piece may or may not resemble the final product as it will be mainly her interpretation of one direction. Once completed, we will develop a list of possible sponsors, contributors, and foundations to approach for the up to 100,000.00 it may require to produce the type of final product this subject deserves.
---
AFTN: Fighting the REEL War
It's just a working title, and the story will tell itself as we go along. However, a documentary will be produced about the role of the American Forces Thailand Network. A number of highly regarded professionals have honored our service by volunteering their valuable time to make this project a reality.
"MOTION pictures, Harold, MOTION pictures..."
While on location producing F-16 Crew Chief at Sheppard AFB, Texas in the late 70's, our shooter lined up on a runway and rolled film whilst an aircraft roared through the frame and leapt into the air. The camera never moved. The Director of Photography clouded over and roared "MOTION pictures, Harold, MOTION pictures..." What we need most is motion footage of any type. This footage will be professionally digitized and restored, and, of course, the donor will get both the original as well as the restored digital, screen credit, and a copy of the completed documentary. Audio recordings, slides, stills, print, and other memorabilia will be welcome as well. At the Reunion, an area for scanning slides and other materials will be set aside for those unwilling to place them on loan. For those willing to place them on loan, they will be cared for with great respect and returned by whatever method you prefer. For precious, irreplaceable motion picture film, we expect to have the services of a first-tier transfer and restoration service in Hollywood performing this vital work. Such materials will be transported to them by whatever method the owner or curator prefers, and they will receive both the materials and a copy of the transfer and restoration, as well as screen credit.
"These things cost money...where is it coming from?"
We are beginning this project on faith. We fully believe a funding source or sources will be found, but in the meantime the Reunion date is almost upon us and we must cover it. A surcharge will be added to Reunion registration to cover the initial food, tape, and housing costs for the Reunion work by our volunteers. They are donating their time, equipment, and expertise with no hope of gain due to their support of this project. All those attending will receive a copy of the finished video. A form will also be available for those wishing to donate beyond the basic surcharge. All those donating beyond the basic surcharge will receive, in addition to a copy of the video, a complete accounting for all expenditures. Those donating above a level to be determined will also receive screen credit for their support. These donations may be tax deductible-consult with the IRS or your accountant.