Jan Garvin's Trip to U-Tapao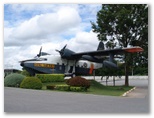 An opportunity came up to travel to Thailand for business July 27 – August 5, 2008. Work was to be done near Pattaya Beach…about 45-minutes from the old stomping grounds of U-Tapao.
The anticipation to see Pattaya again was obvious. It had been thirty-five years since wheels up from U-Tapao. Images of what once was on and off base were tempered with the reality that what once was…probably isn't today. And it surely wasn't.
It's still a long haul from the states there. In this case, thirteen hours in the air from Washington D.C. to Tokyo and then another six+ to Bangkok.
Bangkok is still Bangkok only spread out more. Their version of urban sprawl is no different than other cities you've seen.
After an overnight stay in Bangkok it was on to Pattaya Beach for the duration.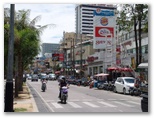 With the exception of the horseshoe-shaped bay, I recognized nothing. Beach Road is lined with businesses ranging from typical Thai shops to nearby shopping centers populated with Burger King, Sizzler, McD's, Dairy Queen, Pizza Hut, KFC, Toys R Us, Office Depot and an assortment of international fares.
Side streets are jammed with shops that boast everything from Internet access to plastic surgery. 7-11's are all over the place.
Nightlife is still a thriving commodity. If you know of Patpong Road in Bangkok…a version of that exists here on Walking Street.
Motorbikes/mopeds are ridden by those with a death wish. You'd have to see it to believe it. It's eye-opening to see a mother with four…yes…four little children on the motorbike weaving in and around traffic. She isn't driving careless…just…well…what can you say.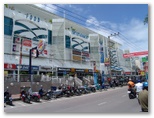 Food variety is virtually endless. Even a Red Lobster is in Pattaya. Don't know if they have those really good cheese biscuits! My baht is on 'no'.
Speaking of baht…while visiting it was roughly thirty to the US dollar. Back in the early '70's…seem to recall it was around twenty to the buck. One baht equaled one nickel then.
When it was time for work, we loaded in to vans and headed for Camp Samaesam located just around the bend from U-Tapao. For any who have traveled that route between U-Tapao and Pattaya…until you get out to the countryside…it's one store after another.
Finally had the chance to go on U-Tapao. Was looking to see if there was any sign of the AFTN building site off the main road that leads into the once base…mostly now an international airport.
The main gate entrance shows no signs of what once was. None. The road that led many a GI to Ban Chang and / or Kilo Sip for a night out is now a four-line divided highway. Facing the entrance are some ultra-dilapidated wooden structures that, to me, seemed trying desperately to remain upright as a souvenir of those glorious days. And proud ones they were.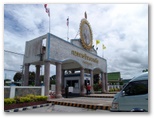 Once on the 'base' main road, also a divided four-laner…you see countless cracked concrete slab foundations overgrown by all sorts of vegetation. You try and remember the hootches and office structures. Quickly you realize the slabs are like grave markers. Quite humbling.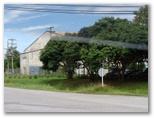 It was impossible to know if the real estate where the station sat is now part of a roadway or not. Just to be able to stand on that piece of earth again would have been perfect. The history, in terms of memories, people and mission lore, is a personal moment that can't be translated. But it would have been one of those rare moments. Such is life.
Ban Chang, remembered as a village that featured a bustling bar scene, is still just that. But the clubs are owned by international companies that have factories nearby. Workers from those countries are treated to basically the same entertainment options.
Kilo Sip is a shock to behold. A huge shopping center rests against a major intersection. Gone from clear sight are the clubs and other establishments many of us patronized back in the day. However, tucked back in wooded areas in the same area, you can catch glimpses of really old buildings that appeared to be like those favored places. Like an old person peaking out to see if anyone recognizes them…and remembers. I smiled.
All in all, it was good to see that westernized progress has helped the Thai people. Lord knows we were there long enough to show them that!
And the Thai people. It was reassuring to learn that they have the same heart and spirit that we encountered during our tours of duty. Once you get passed the typical tourist / Thai exchange…show them respect and even speak some Thai…they are like your long-lost friend. And the quest was sort of like that. I wondered if that friendship…that connection…still existed. It does. It surely does. It was what I hoped to find. Very cool.
Click Here for complete photo Set