David Mallette at AFTN Udorn, 1973

1.

This browser does notsupport the audio tag

AFTN Collage (13:15)(put together by Dave & Bill Hart)

2.

This browser does notsupport the audio tag

Country Roads (Pt 1.)(7:33 sec)

3.

This browser does notsupport the audio tag

Country Roads (Pt 2.)(7:14 sec)
Jerry Reed at AFTN Takhli, 1969

Net Spots/Local Spots (from Jerry's tape library)

1.

This browser does notsupport the audio tag

VD -1 -- Production by Bob Rackham & Korat Net

2.

This browser does notsupport the audio tag

VD -2 -- Production by Bob Rackham & Korat Net

3.

This browser does notsupport the audio tag

VD -3 -- Production by Dean Ihns & Korat Net

4.

This browser does notsupport the audio tag

VD -4 -- Production by Dean Ihns & Korat Net

5.

Silver to Town -- Jerry Reed at Takhli
August 8, 1969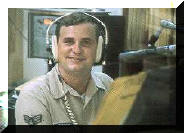 (1st hr) Pt 1
Pt 2
October 9, 1969 (2nd hr)
Pt 1
Pt 2
<4> 4>
---
On the Air at AFTN Ubon, July l968
Morning Show (unknown announcer) 3:46 sec
Soundstage (PM Drive) (we think its Big Al King) 2:54sec
<12>taped off the air by Mal Barnes, Australia, ex RAAF Ubon l968 12>
---
1970 New Year Nightrain Special at AFTN Korat Mike Hurst and R.C. Hurt (1:22 sec)
---
Lee Harris at AFTN Korat Net l969 News Blooper On the Air (scoped)
---
Bob Exler at AFTN Korat l969 On the Air
---
Doc Ball at AFTN Korat l969-l970

Blooper with R.C. Hurt
This "blooper" was caused by newscaster R.C. Hurt who suddenly played back an outtake bad edit in the middle of his newscast at 15 ips instead of 7 1/2 ips. Doc turned on the air studio microphone and said "One moment please." He forgot to turn off the mike and began pounding on the news booth window. Eventually Doc slowly faded up a instrumental fill music selection called "The Party's Over." [Dick Storck, Jan, 2004]
with promo Announcement (1:07)
---
Rik Delisle at AFTN Udorn, Fall l972
Elvis Presley Story Promo (:40sec)
---
AFTN Network News, June l971
Udorn 10:00 Newscast * (unknown announcer) (1:39) (8:57 air check [scoped])
Dave Garroway PSA w/ Udorn Radio ID*
*Tapes from John Stewart (stationed at Udorn RTAFB in l971)
---
Steve Slezak at AFTN Ubon l971-72

Air Force Team

(Spot Announcements)
Equal Opportunity
Physical Fitness

Personal Appearance
Rabies
Seat Belts
---
Bob Lacell at AFTN Net (1970)
Network News Promo (1:22) (Brad Edwards, Bob Lacell, Robert Jimenez, Glen Hauser)
Circuitous Travel Spot Announcement
(:41sec)
Paul Harvey Promo for AFTN News (:22 sec.)
Overweight Spot Announcement
(1:02 sec.)
The Dentist
Robert Neyhard Weekend Show Promo # 1
(:22 sec)
Robert Neyhard Weekend Show Promo # 2
(:41sec.)
---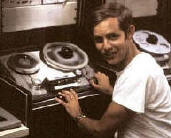 Solid Rock-

-Bob Wertz

at AFTN

Udorn, Fall, l972

Solid Rock Intro/Spot Production by John Turley (1972)
SOLID ROCK Program (5:40 ) (12 - 2:00am)
Solid GOLD Rock
Program

(Sat Night) (2:am - 4:00am)
---

Marathon Photo Album (8:57 air check [scoped])
The Korat Junior Officer's Council-AFTN Radio Marathon
All Korat AFTN radio announcers and the TV crew spent 30 hours raising about $10,000 (super Baht in 1969 money) for the Nakorn Ratchisima Provincial Hospital. Beginning at 12:00noon on Saturday, May 31, 1969, this was one of the biggest combined efforts of AFTN Radio and Television that year.
---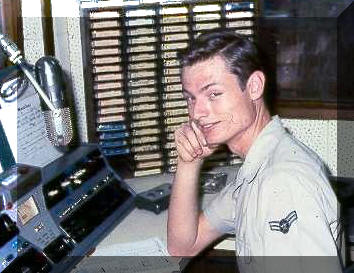 Dean Ihns Night Train Korat October, 2, l969
(15:28 sec)
Pt 2
Pt. 2 Contains a song that was banned from being played on any AFTN station: "We Gotta Get Out of this Place by the Animals." Dean said he was talked to about this indiscretion.
---
► Air Chex --
Remastered by Dick Storck using SOUNDFORGE 5.0
Raleigh, NC Oct-
Dec, 2003 and Jan-May, 2004
---