This Is
The American Forces Thailand Network
AFTN Network Timeline 1964 thru l969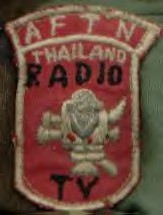 20 October l964 MACTHAI J-6 requests permission for AFRTS outlet in Korat from Director of Joint Communications, Thailand
4 December l964 Chief of JUSMAG informed that Thai government cannot approve operation of a foreign radio station in Thailand
16 November l965 Thai Air Chief Marshall Dawee Chullasapaya agrees to closed-circuit broadcasting a U.S. military installations in Thailand
14 May l966 Seventy-nine military personnel spaces authorized for AFTN
26 September l966 Thirteenth Air Force requests television for Thailand
4 October l966 Thai Government complains, through American embassy, that radio signals from American military installations are radiating into nearby Thai communities.
Broadcast Specialist Class # 003, Fort Benjamin Harrison, October l966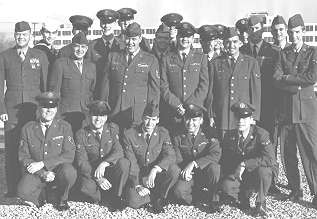 Standing: GySgt Frank Alameida (USMC), PO/2 Chuck Combs (USN), PFC John Deering (USMC) behind GYSgt Frank Candelario (USMC), SSgt. Bill Treacy, A2C Mel thasnum behind TSgt Jack davis, A2C Bob Elyard (in shadow) in fron to PFC Mel Snodgrass(USA), A2C George Smith, A2C Gary York (in partial shadow), A2C A2C Bob Jarvis behind A2C Joe Ruggiero (now of H&G TV), A2C Jim Holmes, in front of Bob tuchel, A1C Don Aistrope and A3C David Mellish.
Kneeling from left: SSgt Davis F. "Doc" Ball, A1C John Lynn, A2C Walter Solarz, A1C George Crawford, and A2C Bob Koslowsky
Photograph provided by Davis F. "Doc" Ball►
Most of this graduating class was sent to Thailand to begin manning the stations that would comprise the new Armed Forces Thailand Network (AFTN). .
11 November l966 The AFTN key station begins operating at Korat RTAFB
6 December l966 General Hunter Harris, Commander-in-Chief, PACAF, endorses proposal for television in Thailand
3 February l967 Broadcast station at Nakhon Phanom begins operating.
5 February l967 Headquarters, AFTN assumes operational control of affiliate stations.
8 February l967 First AFTN station manager's conference held at Korat RTAFB.
10 February l967 Network begins feeding programs to outlets from Korat RTAFB
May l967 AFNB teletype service begins at Korat RTAFB
AFTN Facilities

Station

On Air Date

AFTN- Takhli

3 May l966

AFTN- Korat

11 November l966

AFTN-Nakon Phanom

19 December l966

AFTN-Ubon

1 April l967

AFTN-Udorn

16 April l967

AFTN-Utapao

30 May l967

Hq AFTN

11 November l967
AFTN Unmanned Satellites

Satellite Stations
On Air Date

June l967

June l967

Chieng Mai

June l967

Green Hill (Khao Khieo)

June l967

538th Eng Const Batt

8 November l967

561st Eng Const Batt (Sakhon Nakhon)

15 November l967

Camp Cloudy (Phu Khieo)

10 December l967

Camp Vayama

6 February l968

Lopburi (Koke Kathein)

23 January 1968

Khon Kaen

11 February l968

809th Eng

12 March l968

Bang Pla

25 April l968

Kanchanaburi

8 May l968

7th RRFS-Ramasun Army Station

17 February l968

3 May l968
4 June l967 New Network building for Headquarters AFTN becomes operational
3 July l967 Major Thomas G. Martin assumes duties as Chief, AFTN, vice Lieutenant Colonel Jack R. Olsen
August l967 Voice line from Armed Forces News Bureau in Washington, D.C. installed at Hqs. AFTN
22 October l967 First shipment of taped electrical transcriptions sent to outlets.
2-3 November l967 Second AFTN station Manager's Conference held at Korat RTAFB
1 December l967 Contracts with Associated Press and United Press International signed for radio and . journal wire services.
5 December l967 Second shipment of taped electrical transcriptions sent to outlets.
10 December l967 AFTN begins Audience Survey at all outlets.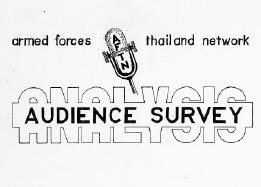 12 December l967 DCA SAM THAI initiates 1000 HZ tone to align all channels associated with the KVH-7 and B-030 circuits.
15 December l967 MACTHAI Public Affairs Office receives AFNB voice line and teletype circuits in their conference.
31 December l967 AFTN audience survey terminates
April l968 AFTNA receives verbal notification of 12 enlisted position losses- - effective FY 69.
April 1968 COMUSMACTHAI J-6 assigns UHF Channel 74 to AFTN for TV tests
5 April l968 AFTN-N initiates request for circuit priority on B-030
20 April l968 TV test facility at U-Tapao complete and operational
9 May l968 First airlift of TV equipment arrives U-Tapao
10 May l968 TV Van arrives U-Tapao
10 May 1968 SAAD and AFTN engineers begin preliminary field intensity measurements at U-Tapao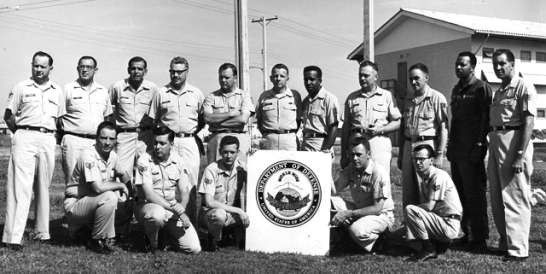 1st AFTN Station Manager's/ Program Directors Conference, May l968
Standing: L to r: SMS Neal Schneider, TSgt Ed Bradbury, TSgt Ron Will, TSgt. Chuck Albrecht, SMS Pat Rutter, Major Thomas G. Martin, Commander, MSgt, ARt Sharpe, MSgt. Bob Eddy, TSgt, Jim Ewing, SSgt Al Owens, TSgt. Jack McAfee,
Kneeling: SSgt. __??__, SSgt Don Cormiae, SSgt Chuck Hawsey (AFRTS Sign), SSgt Doc ball, SSgt Billy Helms, (Official USAF Photo provided by Davis F. "Doc" Ball)
16-18 May l968 First AFTN Station Manager-Program Director Conference held at Korat RTAFB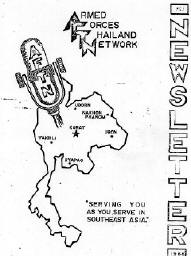 18 May l968 Test pattern aired at U-Tapao
1 June l968 Journal wire service cancelled for lack of usage
4 June l968 Major Thomas G. Martin reassigned to Andrews
11 June l968 Automation feasibility study to SAF-OIID
15 June l968 Captain Michael J. Hall assumed duties as Chief, AFTN, vice Major Thomas G. Martin
25 June l968 Deputy Chief, AFTN, requests excusal of AFTN-Korat personnel from HSC work details
8 July l968 A controlled pattern TV broadcast began at U-Tapao
July l968 COMUSMACTHAI J-6 assigns Channel 80 as additional TV test channel
3 July 1968 Frequency proposal for TV Channels 74 & 80 is forwarded to 7/13AF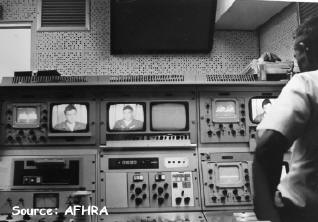 8 July 1968 AFTN-TV U-Tapao on the air►
11 July 1968 Priorities are established for base-by-base construction of television facilities
15 July 1968 Interservice Support Agreement, providing for joint service manning, is sent to 13AF (DXI) for approval.
23 July 1968 Drawings of the U-Tapao TV facility provides 56 DES design reference for similar buildings to be constructed at Nakhon Phanom
July 1968 The much-publicized penetration of the perimeter at Udorn RTAFB sets tighter security measures in motion throughout the network
5 August l968 Mr. George Lim, of the AFRT Special Missions Directorate's engineering Division, completes his studies of facilities available for TV at all Thailand bases, and returns to SAAD to present his proposals
5-7 August l968 AFTN's second station managers' conference plans network "get out the vote: programs
15 August l968 Hq AFTN sends details of Korat RTAFB TV plans to Korat Base Civil Engineers
2 August l968 All network station personnel begin completing "work logs" to assist with November l968's upcoming manpower survey
27 August l968 AFTN Engineering queries SAAD to obtain information for local Civil engineers on TV towers programmed for Thailand
31 August l968 Network supply informs all bases that AFTN can obtain TV receivers
August l968 "Early outs", granted by Hq USAF, and the early advent of television without UMD TV personnel combine to create a network-wide austere manning situation
August l968 Marathon broadcasts by AFTN affiliates in Ubon and Takhli net $ 21, 700 for charity
August l968 Restricted Programs Materials/Music
27 September l968 AFTN Deputy Chief and Korat local station PD travel to Saigon's 7AF (DXI) and a localized combat news service begins in cooperation with 7 AF's Tape Center
30 September l968 Chief, AFTN, departs Korat for SAAD and AFRTS-LA to view TV vans and provide necessary coordination for TV installation
5-7 December l968 Station Manager's Conference at Korat
11 December l968 Temporary TV antenna arrives at AFTN-Nakhon Phanom
12 December l968 Corrected interservice support agreement, for TV manning, is submitted for approval.
16 December l968 AFTN-Nakon Phanom TV installation crew arrives at NKP
18 December l968 The C-!24 Globemaster carrying the NKP van arrives, and is unloaded at NKP
19 December l968 FY70 budget estimate is forwarded for approval. Because of increased TV commitments, budget for fiscal year 70 will be $ 28,000.
20 December l968 First full-duplex operation on teletype circuit R-510 is confirmed with the AFRTS News Bureau in Arlington, Virginia.
25 December l968 AFTN-TV Nakhon Phanom beings program tests with Christmas Day programming.
31 December l968 VOCO approval is received for official sign-on from Royal Thai Government officials, on 3 January l969.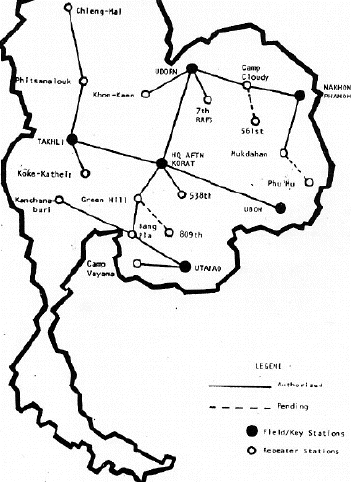 1 Jan l969 The new AFTN manning documents cuts 12 slots, including an admin specialists as TV requirements grow.
AFTN receives a request for extension of TV service to isolated Camp Ruam Chi Chai and Camp Change Pradit, which would require microwave relay from Nakon Phanom RTAFB. AFTN requests study of the proposal by the Sacramento Army Depot.
3 Jan l969 AFTN-TV Nakhon Phanom takes the air at 1430 hours.
5 Jan l969 A serious video outage within a TK-22 camera signs the AFTN-NKP television station off at 2200 hours.
6 Jan l969 Procurement begins for Project 96, as microwave systems are requested for Camp Vayama and Hill 272.
9 Jan l969 Replacements found in-country, and AFTN-TV Nakon Phanom resumes broadcasting. Hq AFTN orders an extra camera as "stand-by" to preclude a similar event in the future.
23 Jan l969 Sacramento Army Depot awards the contract for procurement of 616 television receivers for use at all Thailand bases.
31 Jan l969 Joint U.S. Military Advisory Group forwards a request for extension of radio service to its Nong Hahn site.
1 February l969 Sensitive Material Guidelines (declassified)
12 March l969 AFTN-TV Udorn signs on the air
AFTN-News initiates "Conference Calls" on the Network line to provide immediate command ability, while offering news and production material for television and radio.
14 Mar 69 7/13 AF Commander asks the U.S. Ambassador's assistance in obtaining Thai government approval for FM radio service at Don Muang RTAFB.
19 Mar 69 First 69 television receivers received from Sacramento Army Depot.
27 Mar 69 AFTN-TV Korat signs on at 1500 hrs.
31 Mar 69 AFTN"s Manning Document provides for additional spaces to man TV in Thailand.
Chief, AFTN, asks for help from the U-Tapao Base Commander in assuring that local base support, critically behind schedule, will meet deadlines for TV Project 96 (Camp Vayama and Hill 272)
Mar 69 ABC and Associates Press news film and slide services are contracted.
2 Apr 69 AFTN-TV Takhli begins broadcasting at 1800 hours
7 Apr 69 Installation and operations are "finalized" at AFTN-TV Ubon, preparatory to a first broadcast. A demonstration for U.S. embassy and Thai officials is offered.
1 Jul 69 Armed Forces Thailand Network changes to American Forces Thailand Network as per directive from AFRTS.
1 Jul 69 Contracts let for AP, UPI wire services and AP Color Slide service for fiscal year l970.
15 July 69 AFTN service is restored to Chiang Mai, using audio distribution system.
16-25 July 69 AFTN radio & TV cover Apollo XI flight with local live broadcasts as well as AFRTS-Washington direct feeds and INTELSTAT pictures direct from the moon.
July 69 President Nixon visits, but AFTN reporters are denied permission to cover the event because of "insufficient space". USIS offers access to their coverage.
10-14 Aug 69 AFTN carries four important games network-wide during the 1969 Thailand Softball Tournament at Korat RTAFB.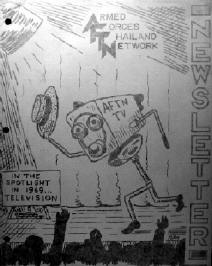 13 Aug 69 DCA/SAM/THAI locates the source of a month-long distortion problem noted on circuit KAR-1. Circuit had been logged out for a total of 72 hours.
18 Aug 69 AFTN loses voice circuit B-030 (AFRTS-W) to a higher priority user. Outage is termed "indefinite".
27 Aug 69 AFTN's proposal for network conversion to FM is forwarded to Secretary of the Air Force by Pacific Air Command.
17 Sep 69 AFTN-TV Korat, plays the first video-taped program to be aired in Thailand, "Insight."
24 Sep 69 Newly-created Network Production Department sends Thailand Orientation Stories to all stations for TV production.
Sep 69 Hq AFTN asks several to request a late port call to smooth the transition into a critical manning situation.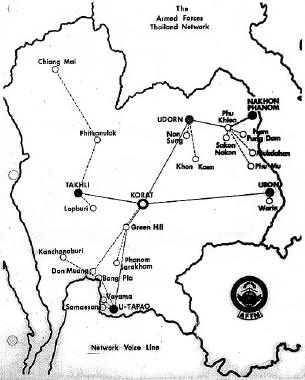 23 Sept 69 SAFOI-I turned down initial request for conversion of AFTN radio outlets to FM
13 Oct 69 A full critique of AFRTS radio programming was sent to AFRTS-LA
15 Oct 69 PCS orders were requested to transfer certain broadcasters around the network.
3 Nov 69 AFTN requests reconsideration of the plan to convert AFTN radio transmission to FM. All stations were again reminded of the sensitivity of a broadcast signal radiating off base.
6 Nov 69 First thoughts of an extensive AFTN audience survey were put in memo form by the Network Superintendent.
8 Nov 69 PCS transfer for MSgt Skip Mahnke, AFTN Korat to AFTN Udorn.
12 Nov 69 A list of suggested revisions in AFTN news broadcasting "sensitive" subjects was submitted to 7/13th (DXI) to be forwarded to the U.S. Embassy in Bangkok.
17 Nov 69 The new "Kaleidoscope" format was begun combining news analysis and commentary from AFRTS-Washington voice line with contemporary music on the hourly week-day network radio program.
18 Nov 69 Temporary manning assistance was requested from 13 AF to alleviate a critical problem caused by a lack of an engineer at AFTN Udorn.
3 Dec 69 Complete request and justification for an AFTN squadron designation was submitted to 7/13AF (DXI).
4 Dec 69 Permission on to conduct a test on FM feasibility was received from 7/13AF.
8 Dec 69 A complete study on upgrading the sound quality of AFTN's voice line to affiliate stations in order to achieve "full network status" was to 7/13AF (DXI)
9-11 Dec 69 AFTN Station Manager's Conference was held at AFTN-Korat.
23 Dec 69 AFTN asks American Forces Vietnam Network for a loan of a "7800" Video Tape recorder to be used at AFTN-Udorn.
24 Dec 69 Preliminary test of FM transmission were completed and forwarded to 7/13 AF (DXI).
29 Dec 69 AFTN asks AFRTS-LA for an FM stereo program package for test purposes.
30 Dec 69 Network supply asks all stations to identify the location of TV sets signed out on AF Form on 1297.
◄Back-Network History Timeline for l970-l973►