This Is
The American Forces Thailand Network
AFTN Network Timeline l974-l976
-----
2-5 Apr 74 Management Effectiveness Team visits Udorn RTAFB
11-12 Apr 74 Station Manager's Conference at Korat
23 Jul 74 Change of command, Capt. Joseph C. Winsett assumed command of AFTN from Major Melvin A. Bailey.
5 Aug 74 Closure of radio station at Takhli
12 Aug 74 Change of command, Major John M. Lewis, Jr., assumed command of AFTN from Captain Joseph C. Winsett.
1 Sep 74 Reduction of manning and program hours at Ubon operating location
16 Sep 74 Received 13 AF/XP message of AFTN consolidation into 6204th Aerospace Support Squadron at Clark AF, PI. Completion date 15 November l974.
23 Sep 74 Recommended consideration for use of either SEAN--South East Asia Network in lieu of AFPN-American Forces Phillipine Network and AFTN-American Forces Thailand Network as the network identifier upon consolidation of the two units.
11 Oct 74 Message from CINCPACAF OI forwarded requested status of proposed single word ID for stations to use on air in newly consolidated squadron (CINCPACAF 2421322 Oct 74)
1 Nov 74 AFRTS-Los Angeles revamped two television circuits, placing all television stations in the newly combined squadron on the same circuit to provide continuity throughout the 13 AF area jurisdiction (Ltr. AFRTS-LA 1 Nov 74)
9 Nov 74 Satellite feed football games on 9 Nov and 21 Nov marked the first time color VTR replays were available for Thailand. TV engineers and IVC 870 VTR machines were deployed from Thailand and immediately recorded the games in color for playback in color the next day.
15 Nov 74 6001st Aerospace Support Squadron (AFTN) Thailand, and 6204th Broadcasting Squadron, Republic of the Phillipines, were consolidated and became the 6204th Aerospace Support Squadron (S.O. Ga-42, 8 Oct 74)
15 Nov 74 6001st Aerospace Support Squadron Headquarters Korat RTAFB, Thailand, becomes Detachment 1 of the 6204th Aerospace Support Squadron
Nine (9) unmanned repeater stations at Lop Buri, Chiang Mai, Kokha, Sattahip, Don Muang Airport, Bangkok, Warin, Samaesan Army Station, and Ramasun were considered satellite stations. The satellite stations in Thailand were the responsibility of Korat, U-Tapao, Ubon, and Udorn affiliate stations.
Early 75 Sgt Rik Delisle does the last newscast from Korat for the AFTN network.
23 Jan 75 Ramasun Army Station requested to apply for AFRTS outlet
3 Feb 75 Request for speakers sytems for AFTN signal to Tavich and USMAG/MACTHAI compounds in Bangkok.
Mar 75 Final equipment arrives for completion of closed circuit completion of closed circuit radio cable system for Kokha, Thailand.
16 May 75 Ubon television ceased operation
7 July 75 OLAF memorandum received granted approval to upgrade Ramasun station
12 July 75 Army manning in Thailand will not be addressed y the Army.
13 July 75 Ubon radio operation signed off the air at 1500 hours
14 July 75 NKP Station Manager MSgt Frank Leary sent TDY to Subic Bay Station, Phillipines
20 Sept 75 NKP television signed off the air
10 Oct 75 NKP FM radio operations signed off at 2400.
1 Jan 76 Korat airs 19 hour "Hitmakers" music history special
Satellite feeds of Rose and Orange bowl games disseminated from Clark television (AFPN)
2 Jan l976 Korat and Udorn off-air target dates extended
4 Jan l976 NKP television van departs Thailand via C-5
10 Jan l976 Udorn television ends broadcasting
13 Jan l976 Thailand radiated broadcasting deadline set to cease 20 March l976.
14 Jan l976 Udorn television van departs Thailand via C-5
15 Jan l976 Closed-circuit radio for residual Thailand forces initiated. Those sites included Ramasun, and U-Tapao, and CCR's at Bangkok, Ko Kha, and Chiang Mai.
Closed-circuit television for residual U-Tapao forces initiated
18 Jan l976 Super Bowl disseminated from Clark television production
22 Jan l976 Udorn and NKP AFRTS assets shipped out of Thailand
30 Jan l976 6204AEROSS wins unprecedented three out of five Air Force Information Media Awards.
1 Feb l976 Korat television ends broadcasting
5 Feb l976 Udorn ends radio broadcasting
Feb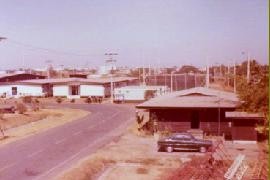 76 The remains of the Udorn Radio/TV station. The tower has been disassembled and the TV van transferred. (Photo by Steven Freeman►)
8 Feb l976 6204 AEROSS TDY engineering team begins installation of Ramasun television facility.
Korat radio ceases local studio originated broadcasting. Network news preparation/dissemination responsibility shifts to U-Tapao.
16 Feb l976 Ramasun television studios begin broadcasting, with deactivated TV van from Korat
20 Feb l976 PCA/TASA engineers begin on-site survey for closed-circuit radio network in Thailand for residual forces.
24 Feb l976 Korat radio ends broadcasting
17 Mar l976 Ramasun television ends broadcasting
18 Mar l976 Ramasun radio satellite begins broadcasting
6204AEROSS orders continued radiated broadcasting in Thailand beyond 20 March cessation deadline.
30 March l976 Closed-circuit radio on-site survey in Thailand ends with departure of PCA engineer
31 March l976 U-Tapao, last television station of 6204AEROSS in Thailand, ends broadcasting.
23 May l976 Final closure of AFTN with U-Tapao signing off the air.
The chapter on the American Forces Thailand Network, one of the largest US Air Force broadcasting networks ever, signs off the air on May 23, l976.
Sources: AFTN Unit Histories, Air Force Historical Records Agency (AFHRA), Maxwell AFB, AL
Return to:
updated 10 / 7/ 16